"The Otto Carter Story" excerpt from "Wings, W.A.S.P. and Warriors" a book written by Travis Monday.
Sunday, March 12, 2000
Internet holds big surprise for retired Air Force colonel
By Nancy Robinson
William Otto Carter, Jr. Col.USAF Ret.
Otto Carter Jr. says his son has always been a computer whiz. And ever since he can remember, young Otto has heard his father talk about his experiences in World War II.
"I guess because of Dad, I became a history nut. I didn't think there was a World War II site on the internet I hadn't looked at.
"He was always talking about his airplane that another pilot had to land in a swamp. He wished he could take our family to New Guinea so he could fly us over the swamp and show us the actual P-47D Thunderbolt he flew with the 460th Fighter Group, 340th Fighter Squadron. He was sure it was there, exactly where his buddy left it when he had to make a forced landing in the swamp back in 1943."
Sweetwater native Otto Carter Jr. had learned to fly while just a kid in 1934 from legendary West Texas aviator, L.E. Derryberry. By the fall of 1943 he was like a hundred other combat-seasoned pilots flying and fighting for their lives in the skies over New Guinea.
"I was 23. My wingman was 19. We were so young to be up against so much finality. We'd fly a morning patrol mission and an afternoon patrol mission, each four hours long. That's a lot of time to be by yourself in an airplane trying to find someone who is trying to kill you before they find you first."
One morning Carter flew his morning patrol to the Markham Valley to an area called Tsili Tsili. That afternoon fellow pilot Wallace Harding asked if he could borrow Carter's plane since Harding's airplane was in for repairs.
Carter agreed.
During the flight, the oil pump on the Jug, as the P-47 was affectionately known, failed, causing the engine to seize.
Harding had to make a wheels-up landing in the Waigani Swamp. It took him two days to reach the shoreline after struggling through the sharp-leaved kunai grass.The airplane, however, was given up for dead and left to lie in the swamp.
Each time Carter took off on his patrol missions in the days that followed, he could look down and see the P-47 sitting intact in the swamp. There was no way to get it out in the middle of a war. When he left New Guinea, Carter was certain he would never see his beloved Jug again.
Fast forward to the fall of 1999. While visiting with friends at a computer shop, the subject of World War II airplanes came up and young Otto Carter told one of the guys about his Dad racking up 2,000 hours as a fighter pilot in a P-47.
The man admitted he had no idea what a P-47 looked like. So Carter asked the shop owner to dial up the internet, hoping to find a picture of one.
What happened next is something young Otto says "completely blew me away."
"I found a Web page with a bunch of sites I'd never seen before and randomly clicked on one from the Museum of Transport and Technology located in Auckland, New Zealand. A picture came up that just about filled the page, except for the caption which read, 'This plane was recovered from a swamp about 40 miles north of Port Moresby, New Guinea.'"
When the he looked closer at the plane, he saw the distinct tail markings of his dad's fighter squadron.
"I was totally stunned. I knew I was looking at my dad's old airplane."
The Web site told how a Port Moresby pharmacist had built a road into the wetlands with the intentions of recovering the plane in 1970. After he suffered an injury (not related to the recovery effort) some of his well-intentioned friends went in and attempted to haul the airplane out for him. The aircraft was far too heavy for them to carry, so instead of unbolting the wings and engine they simply sawed them off and cut the fuselage in half so they could drag it to the truck.
Over the next 25 years the Jug was either stored and ignored, or used for barter in trades for other airplanes. It finally ended up in the hands of Robert Greinert in Sydney, Australia. He is currently in the process of doing a complete restoration.
Carter, an 83-year-young retired Air Force colonel who now lives south of Eula, was sitting in the kitchen with his laptop computer when his son told him to look up the Web page. He says when he saw the P-47, he felt exactly like he had felt in World War II when Charles Lindbergh arrived unannounced at the New Guinea base and asked if Carter would let him fly with him.
"I just couldn't believe something that incredible could really happen to me."
Nancy Robinson is a pilot and aviation writer who can't believe all the incredible things that really happen to her. E-mail her at masair@abilene.com.
Republic P-47 Thunderbolt
42-8066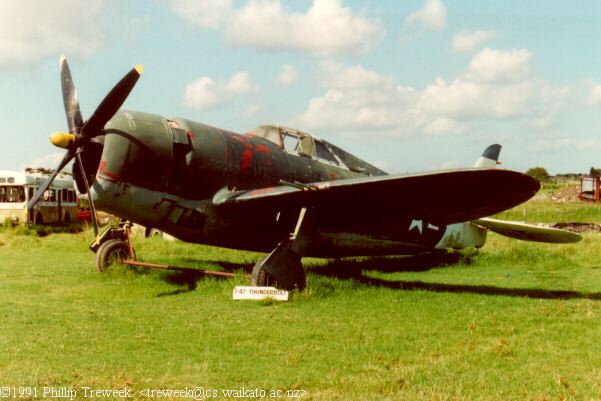 Taken at the Museum of Transport and Technology, 1991. Recovered from a swamp in New Guinea, this aircraft is believed to be the oldest remaining 'Jug'
Technical Data Figures are for P-47D model Accomodation : 1 Dimensions Span : 12.40m (40'10") Length : 11.00m (36'2") Height : 4.30m (14'2") Weight empty : kg (lb) max : 5,675kg (12,500lb) Power Plant : 2,000hp P&W R-2800-59 Performance : max speed : 704km/h (440mph) max climb : ft/min (m/min) ceiling : 40,000ft (12,200m) range : km (miles)
Check out this link:
http://www.pacificwrecks.com/aircraft/p-47/42-8066.html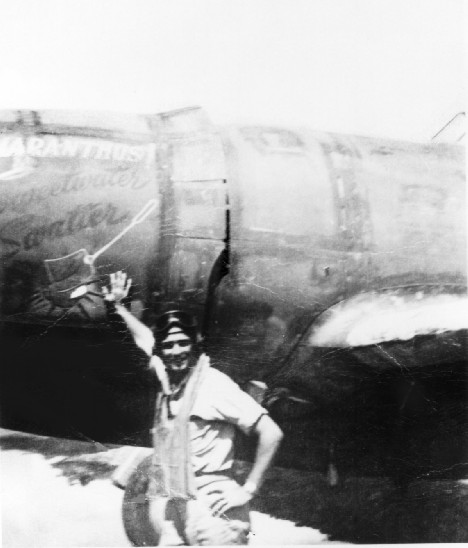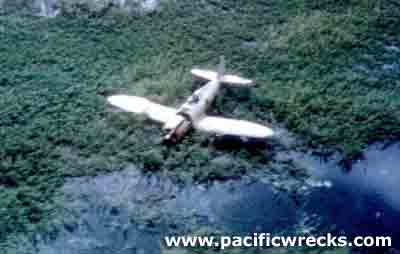 Otto and his Moto Guzzi
---