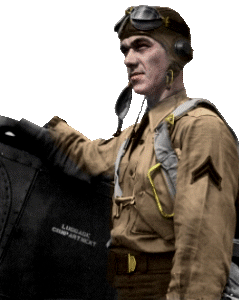 Neel E. Kearby
Probably the only thing about Neel Kearby that didn't shout the name "Texan" was his stature. Unlike the stereo-type: tall, rugged, fearless, and filled with attitude--Neel stood only 5'9" tall. The rest of him more than adequately fit the mold.
Born in the rural North Texas town of Wichita Falls along the Oklahoma border in 1911, Neel was the son of Dr. and Mrs. J. G. Kearby of Dallas. He grew up in Arlington, a thriving metropolis sandwiched between Dallas and Fort Worth, where he first attended high school and later North Texas Agricultural College, before transferring to the University of Texas at Austin. He graduated there in 1937 with a degree in Business Administration.
As a boy, Kearby had always been fascinated with aviation. He earned his first flight by agreeing to wash a neighbor's private plane. But Kearby's interest was not only in flight, but in aerial combat. His boyhood heroes were the pilots of the last great war, the aces of World War I. He compiled a personal collection of albums featuring the great aviators who had inaugurated aerial warfare, and dreamed of someday being like them. Such dreams compelled him to enlist as a flying cadet after earning his degree, and he received his commission as an Army Air Corps aviator in February 1938.
Neel Kearby was an easily likeable man, reserved on the ground but a tiger in the air. From his early days of learning to fly in aged AT-6 Army trainers in Texas in 1937, to his tour of duty flying P-39s in Panama during the first year of World War II, Neel Kearby was known to take his flying seriously--and competitively. In the cockpit he was a skilled airman, cool under pressure, and driven to excel. He was also a keen tactician and a natural leader. By the time Kearby received orders to depart Panama and assume command of the new 348th Fighter Group at Westover Field, Massachusetts, in October 1942, he had risen to the rank of Major in fewer than four years.
P-47 Thunderbolts
Under Major Kearby the 348th Fighter Group began training for combat, equipped with the newest advancement in fighter aircraft, the P-47. Built by Seversky Aircraft Corporation (later renamed Republic Aviation), the Thunderbolt was designed specifically for the air war in Europe as an escort fighter for high-altitude bombers. For this reason maneuverability was sacrificed for greater fire-power, heavier armor, greater durability, and a larger engine. The end-result was a nearly 7-ton fighter framed within a bulky, barrel-shaped fuselage. The ungainly airplane was quickly renamed the "Jug" in derision by other pilots who saw it as ugly and unsuitable for combat. To make matters worse, the heavy fighter was very slow taking off and had a very poor rate of climb . Other pilots joked that if Army engineers built a runway all the way around the planet, "Republic (Aviation) would build an airplane that needed every foot of it (to get airborne.")
Neel Kearby the tactician looked beyond the engineering nightmare that was the P-47 and found a flying arsenal. Featuring eight, forward-firing, heavy 50-caliber machineguns, the Thunderbolt was a flying warhead that could dive with impunity into the most fearsome enemy formation and emerge unscathed. The P-47 was designed to withstand a six-ton impact, making it virtually indestructible. Kearby continued to acquaint himself with the capabilities of the Thunderbolt and to train his pilots to take advantage of the aircraft's natural abilities for the high-altitude air war over Germany. By May his men were ready for combat in Europe.
Meanwhile, in the Pacific, General Kenney's P-38 pilots had been writing an impressive resume for their fast, highly-maneuverable Lockheed Lightnings. Outnumbered more than two-to-one by the Japanese less than a year earlier, and supplemented primarily by aging and battle-damaged P-39s and P-40s, Kenney's fighter pilots now ruled the skies over eastern New Guinea.
Letters were assigned to aircraft according to their mission type, followed by numbers denoting their particular model. Bomber aircraft, for instance, were preceded by the letter "B", followed by their model: B-17, B-24, B-25, etc.
During World War I, fighter aircraft were called "Pursuit Aircraft", and that designation remained, thus fighter planes were denoted with the letter "P" followed by their model: P-38, P-38, P-40, P-47, etc.
Other designations included:

"A" for Attack (Diver Bombers)
"O" for Observation Airplanes
"C" for Cargo Airplanes

"G" for Gliders
"CG" for Cargo Gliders
"AT", "BT", "PT" for Trainers

The model number followed by a letter indicates modifications to a particular model. A "B-17G", for instance, indicated a Bomber, model 17, in its seventh ("G") modification. Occasionally existing aircraft were modified for other missions. A P-51 that had been modified for dive bombing (attack) missions, was re-designated an A-36.
The Fifth Air Force had played a key role in the highly successful campaign to secure the north side of the Papuan Peninsula and establish air bases east of Lae, then had crushed the Japanese effort to reinforce Lae during the Battle of the Bismarck Sea. Kenney's Fifth Fighter Command was victorious but badly bruised. In March 1943 General Kenney made his first visit to Washington, D.C., since taking command of the Fifth Air Force less than a year earlier. A key part of this trip, beyond briefing Hap Arnold and the General Staff on the progress in the Pacific, was to plead for replacement pilots and new aircraft. The Fifth Air Force had accomplished what a year earlier was considered impossible, but the toll left the command worn, torn, bleeding, and struggling to keep airplanes in the air. The combat toll had been so extensive it was not unusual for more than half of the aircraft mounted for a mission to be forced to abort, not because of enemy fire, but because of mechanical failure.
Kenney quickly learned that among the top Allied war planners, despite his tremendous success in the Southwest Pacific, defeating the Japanese was a "war on the back burner." Most Allied efforts were focused on defeating the Axis in Europe. This was not a message Kenney wanted to hear, or a decision he would accept. He continued to plead for new pilots and aircraft, and the effort finally paid off. On March 22, less than ten days before Kenney's return to Port Moresby, Hap Arnold called him to his office. He advised the Fifth Air Force commander that he had "squeezed everything dry to give him some help." That help was to come in the form of:
One new heavy bombardment group

Two and a half medium bombardment groups

Three new fighter groups--and, "Oh, one of those groups will have to be a P-47 group. No one else WANTS them."
Desperate for anything, despite all the negatives he had heard about the P-47, and ignoring his own misgivings about the ungainly Jugs, Kenney said he would gladly take ANYTHING Hap chose to send.
---
Major Kearby took a badly-needed break from making his squadrons ready for combat in Europe on April 3, two days after George Kenney left Washington to return to his own command. That seven-day leave gave Kearby the opportunity to spend a little time with his children and his beautiful wife Virginia, whom he affectionately called "Ginger." When he returned to work on April 9, it was to find something unusual going on. The 348th Fighter Group was being readied for deployment.
Within 30 days the group moved to Camp Shanks, New York, to begin their final preparations before leaving for overseas combat. On May 14 both pilots and planes were boarded on the Army Transport Henry Gibbons. On May 21 the Henry Gibbons passed through the Panama Canal, and the men aboard who were headed for war at last knew what many had begun to suspect, that the 348th Fighter Group with its P-47 Thunderbolts was not headed for Europe. They were, in fact, the group no one else wanted that Hap Arnold had promised General Kenney.
The 348th Fighter Group was headed for war in the Pacific with their unwanted, untested, and oft-derided, P-47s Thunderbolts.
Lieutenant Colonel Neel Kearby reported for duty with the Fifth Air Force at Brisbane, Australia, on June 20. Meanwhile his ground crews and crated P-47s continued on to their final destination further north at Townsville. General Kenney recalled meeting Kearby for the first time quite well. The newly-arrived group commander made a solid impression, not only for his resume as a seasoned pilot with 2,000 hours of flight time already on the books, but for his eagerness for combat. From the moment of that first meeting, something clicked between the two men, and they became very close friends.

Neel Kearby's boyhood heroes had been the great aces of World War I, men who admired and hoped to emulate. Perhaps Kenney saw in Kearby the same fire, ability, and hunger that had marked one of those men, the pilot even Eddie Rickenbacker had proclaimed the "the greatest airman of World War I," the unstoppable Frank Luke. Kenney had flown combat in that earlier war, shooting down his first German plane on the same day Luke began his incredible string of aerial victories by bagging three balloons in a day on September 15, 1918. Kenney knew well the story of Luke's competitive personality, his daring braggadocio, and the skill as a pilot that had enabled him to accomplish what he proclaimed he would do. (In all, Kenney netted two confirmed kills in World War I, earning the Distinguished Service Cross for his second aerial victory on October 9.)

Kenney wrote of that introduction: "Kearby, a short, slight, keen-eyed, black-haired Texan about thirty-two, looked like money in the bank to me. About two minutes after he had introduced himself he wanted to know who had the highest scores for shooting down Jap aircraft. You felt that he just wanted to know who he had to beat."

In the summer of 1943 General Kenney had plenty of seasoned heroes under his command of whom he could be...and was...justifiably proud. There was Captain George Welch who had shot down four Japanese airplanes at Pearl Harbor on December 7, 1941, earning him the Distinguished Service Cross. Still knocking down enemy airplanes, Welch scored his ninth victory the day after Kearby reported.

Captain Tom Lynch and First Lieutenant Richard Bong were tied at eleven victories each, and looked to be poised for many, many more. The previous December, Eddie Rickenbacker himself had visited the Fifth Air Force, promising to match Kenney's proffered case of Scotch to the first airman to beat the World War I Ace of Aces' unequalled twenty-six aerial victories. Kenney had no doubt that one of his young pilots would eventually reach that benchmark, and any one of his three veteran aces was capable. But Kenney recognized a difference in the attitude of the young Lieutenant Colonel before him, who had reported for duty by inquiring who he had to beat for the top spot on the victory list.

Though Welch, Lynch, and Bong were each capable of breaking Rickenbacker's record, none of the three felt pressured to do so. For them, aerial combat was a daily job of shooting down enemy planes. Theirs' was not a race to the top. They were simply doing a job to be done, and they were all three very good at doing their jobs. Neel Kearby, on the other hand, had a hunger in his eyes. It was a drive perhaps fueled by his boyhood adoration of the World War I top guns, coupled with the boyhood dream to emulate, and even exceed, the accomplishments of his personal heroes. Beyond the hunger that fueled his intensely competitive spirit, Lieutenant Neel Kearby had both the skill and tactical prowess to accomplish his goals. Perhaps the only real difference between Neel Kearby and the great balloon-buster Frank Luke was that, while Luke's braggadocio turned off his fellow pilots and relegated him to being a lone-wolf, Kearby was an easily likable man. No one, least of all General Kenney, took offense when the 348th Group commander began to proclaim that he intended to shoot down FIFTY Jap planes.

Of course, before Kenney's newest would-be ace could get started, General Kenney had to get him into combat. That, despite Kearby's eagerness, was no small matter. First and foremost, it would take a month to assemble the crated P-47s at Townsville. Once assembled, the small fuel tanks would limit the range of combat operations, necessitating additional delays until supplemental "wing tanks" could be manufactured and installed. To further complicate matters, the veteran pilots of the Fifth Fighter Command weren't all that confident that the P-47 Thunderbolts were even capable of combat operations.

"Everyone in the 5th Air Force, from (General) Whitehead and (General) Wurtsmith down, except the kids in the new (348th) group, decided that the P-47 was no good as a combat plane. Besides not having enough gas, the rumors said it took too much runway to get off, it had no maneuverability, it would not pull out of a dive, the landing gear was weak, and the engine was unreliable.

"I sent for Kearby and told him I expected him to sell the P-47 or go back home. I knew it didn't have enough gas but we would hang some more on somehow and prove it as a combat plane, especially as it was the only fighter that (Hap) Arnold would give me in any quantities for some time.

"I told Kearby that, regardless of the fact that everyone in the theater was sold on the P-38, if the P-47 could demonstrate just once that it could perform comparably I believed that the 'Jug,' as the kids called it, would be looked upon with more favor.

I told him that Lieutenant Colonel George Prentice would arrive that afternoon from New Guinea to take command of the new P-38 group which I had formed and had started training at our Amberley Field. He would probably celebrate a little tonight. I told Neel to keep away from Prentice, go to bed early, and the first thing in the morning to hop over to Amberley in his P-47 and challenge Prentice to a mock combat. Neel Kearby was not only a good pilot but he had several hundred hours' playing time with a P-47 and could do better with it than anyone else. Prentice was an excellent P-38 pilot, but for the sake of my sales argument I hoped he wouldn't be feeling in tiptop form when he accepted Neel's challenge.

General George C. Kenney
General Kenney Reports

It was this critical situation that led to the early morning of mock-combat over Amberley where General Kenney's gamble paid off, resulting in Kearby shooting down Prentice's P-38 several times. Kenney, for his own part, was pleased with the outcome and quick to nix any hopes for a rematch. The single clash between P-38 and P-47 had achieved its necessary goal. In a rematch, with Prentice at the top of his form, the results might be reversed.

For the moment it was sufficient to know that at last the Thunderbolts had been accepted, even if still dubiously so, as a part of the combat inventory of the Fifth Air Force. The real test would come later, when they faced the Japanese in the air. Kenney could only hope that the P-47 would again prove itself a capable fighter, despite its many deficiencies.

During the last week of July Lieutenant Colonel Kearby began moving his fighter squadron to Port Moresby. Even as they were arriving, Kearby's competition was growing. On July 26 Lieutenant Bong had his single-best day of the war, shooting down four enemy planes and earning the Distinguished Service Cross. Two days later he bagged another, bringing his score to sixteen.

If Dick Bong wasn't counting, Neel Kearby certainly was. He saw his competition increase at the same time he and his men were relegated to generally uneventful duty at Port Moresby, missions that offered little chance for combat. Kearby's P-47s were still on a short leash for lack of supplementary wing tanks. Besides that fact, the slow-to-takeoff Jugs made them well-suited to the defense of Port Moresby. Radar provided up to an hour of advance warning before incoming bogies arrived and, even at their slow climb speed, an hour was ample to get the Thunderbolts in position to meet an incoming Zero or bomber.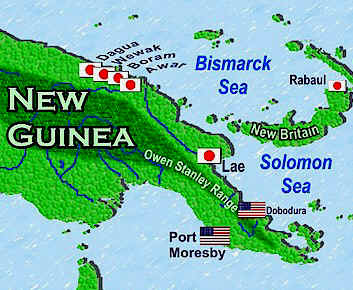 During the first two weeks of August the Japanese began reinforcing New Guinea by moving hundreds of fighters into airfields west Lae, on the north coast of the island, in and around Wewak. Kenney responded at mid-month with the most sweeping raids since the Battle of the Bismarck Sea. It was during these missions on August 18 that Major Ralph Cheli was shot down while piloting his B-25, earning him a posthumous Medal of Honor.

That same day, a new would-be top gun with a fire akin that which burned within Neel Kearby, got his first, and second...and THIRD victory. Two days later the newly arrived Tommy McGuire became an ace in his P-38.

Dick Bong missed the action around Wewak in mid-August when the Fifth Fighter Command had some of its best hunting. The leading Army ace in the Southwest Pacific had suffered battle damage in a July 28 mission, and his plane was out for repairs. Kenney promoted Bong to Captain and sent him to Australia for R & R while his P-38 was being repaired. In Bong's absence, Tom Lynch took up the slack, shooting down two enemy on August 20 and bringing his own total to fourteen. He scored another victory the following day.

While Kenney's Lightnings had a "field day" in the skies over the Huon Gulf and around the airfields near Wewak in the latter weeks of August, Kearby's Thunderbolts continued to fly nondescript missions--protection patrols at Port Moresby and Dobodura, and routine convoy escort operations. The one piece of good news in the month came on August 16 when sixteen P-47s flying close escort duty for Army transports bound for Marilinan were attacked by a dozen enemy Oscars. Captain Max Wiecks and Lieutenant Leonard Leighton each scored a victory, the first for the 348th Fighter Group.

Lieutenant Leighton was himself shot down, and was last seen parachuting into the jungle below. Several months later an Allied patrol found his body, confirming him as the Group's first combat casualty.

When the month of August ended, Dick Bong was in Australia, Tom Lynch was two victories behind Bong with fourteen kills, and the rookie Tommy McGuire's tally was up to seven. Lieutenant Colonel Neel Kearby, who had yet to prove the true value of his P-47s despite the Groups two victories, was still fifty victories shy of the mark he had set for himself. And for the most part, Kearby and his pilots were still stuck in convoy escort duty, far from the fertile hunting grounds around Wewak.

September 4, 1943
First Blood

After the fall of Buna and Gona in January, Allied attention focused on routing the last Japanese stronghold at Lae, near the Huon Gulf. Early in the Spring General Kenney established an airfield at Tsili Tsili, just forty miles from the large and critical port of Lae. Then, on September 3, he dispatched twenty-three heavy bombers to unload 84 tons of bombs on Lae's gun defenses while nine strafers followed with more than 500 fragmentation bombs and 35,00 rounds of machine-gun fire. It was preparation for the final showdown to at last capture Lae.

The following morning two dozen B-24s dropped another 96 tons of bombs on Lae. Meanwhile Major General Wooten's 9th Australian Division, departing out of Buna, landed in U.S. Navy LSTs on Hopoi Beach a short distance east of Lae. The invasion date had been selected based on suitable weather, cloud cover and fog to keep enemy planes based on nearby New Britain Island from interfering with the landing. Unfortunately, that same weather masked events on the surface of the ocean from the fighter cover flying just above the haze. When the transports neared the beach, enemy shore batteries opened up with a withering fire. Simultaneously, enemy airplanes hidden in the nearby jungle managed to slip in beneath the haze to attack the landing force.

LST 473 was approaching the beach with its cargo of Australian infantrymen, tanks and supplies even as a torrent of deadly shells erupted in the waters around it. The transport continued its course towards the beach, determined to brave the maelstrom. Suddenly one of the Japanese dive bombers came in low and released a torpedo directly into the path of the landing craft. Seaman First Class Johnnie David Hutchins glanced quickly to the pilothouse to warn the steersman when, in an instant, a bomb shattered LST 473. The explosion killed the steersman and mortally wouded Seaman Hutchins, leaving the barge nearly dead in the water. LST 473 was helpless and the ship and the men it carried were doomed by the incoming torpedo.

With only seconds to react, and with the last vestiges of life vanishing from his battered body, somehow Johnnie Hutchins managed to stagger to the wheel and turn the ship clear of the torpedo's path. Then he died, still clinging to the wheel.

Around him combat-hardened Australian soldiers who had seen the act were awed by the sheer resolve and determination they had witnessed. They could not forget the smiling, blond, 21-year-old sailor from Texas who had sacrificed his last ounce of ebbing strength to save their lives. One year later at the Sam Houston Coliseum in Houston, Texas, Rear Admiral A. C. Bennett presented Johnnie Hutchin's well-deserved Medal of Honor to his mother.

Despite the hail of enemy fire from the beach, General Wooten's Rats of Tobruk, so-named for their own heroic stand a few years earlier in North Africa, landed together with their tanks and supplies. Before noon the transport convoy began the return trip to Buna, save for Johnnie Hutchins' and one other transport so damaged that it would only get as far as the port at Morobe.

The returning convoy was faced with new dangers when the afternoon sun burned off the haze, exposing the ships to enemy flights out of New Britain. At the airfield at Dobodura near Buna, Lieutenant Colonel Neel Kearby was unaware that enemy pilots had killed a fellow Texan, but he was well aware that a fight was brewing. Word reached Dobodura that enemy aircraft had been sighted moving into the Morobe, Salamua, and Finchhafen areas, which were near the invasion site at Hopoi Beach. It was the anticipated enemy response to the landing of Australian troops on the doorstep of their fortress at Lae.

Kearby's Thunderbolts began taking off around two o'clock in the afternoon, Yellow Flight from the 342d Squadron, followed by seven more airplanes of Blue and Green Flights. The last flight of twenty P-47s was led by the Group commander himself.

Half-an-hour later Kearby's formation of four fighters were fourteen miles south of Hopoi Beach, cruising easily at 25,000 feet, when Neel saw what appeared to be two fighters and a flying boat flying close-formation miles below. At that distance it was impossible to identify the bogeys and Kearby knew if he dove, he would lose precious altitude that would be difficult to recover if the dark blips beyond turned out to be American. Kearby noted the signs of bomber damage around Morobe and several fires in the water near Cape Ward Hunt, and decided the possibility that the unidentified airplanes were enemy made it worth the risk. With his wing man trailing, he nosed into a steep dive at more than 400 miles per hour, closing the gap in less than a minute.

At 2,000 feet Kearby and Lieutenant George Orr, his wingman, closed to within three-hundred yards behind and to the left of the three aircraft. The large flying boat in the center was a Betty bomber, protected by a Zero and an Oscar close on each wing. The red orbs of the rising sun confirmed their identity as Japanese.

Adrenaline filled every fiber of the would-be super-ace at the prospect of his first combat. Perhaps it was buck fever, it was doubtless NOT by design, that rather than making a nearly sure-shot at one plane, Neel Kearby unleashing his eight 50-caliber machineguns on two enemy at once. Even before Lieutenant Orr could trigger his own guns, the wing-man watched in amazement as the Betty bomber exploded. One wing ripped away from one of the escorting fighters, causing it to also plunge into the sea below. Kearby knew he had been lucky--his first victory had been a double-punch. Chalk one up for the highly-touted increased firepower of the P-47. There could be no more doubts.

The P-47s zipped past the flaming, falling debris that had been two enemy planes before they could sight on the third fighter. Struggling against the inertia of their diving seven-ton Thunderbolts, Kearby and Orr banked and tried to pursue the now vanishing Oscar. Kearby tried to line up for a third kill, but the Japanese pilot executed a nimble climb, leaving Kearby's sights filled only with blue sky and white clouds.

Nearly thirty enemy aircraft were destroyed on September 4, six by the anti-aircraft guns in the convoy, twenty-one of them by General Kenney's P-38s. Neel Kearby scored the only victories for the 348th squadron. Kearbyy also realized that his over-eagerness had disrupted what could have been a near-perfect attack, one that would have netted all three enemy planes.

The keen tactician mentally noted his mistakes, which could not take away from his celebratory mood upon returning to Ward's Drome. Not only was he at last in the race for Top Gun, he had demonstrated the soundness of a tactic he had preached to his pilots since they received the first P-47s back in the states. Despite its weight, its clumsiness at low altitudes, and its slow rate of climb, the Thunderbolt could be deadly when tactically deployed. Kearby would leave it to lighter, more nimble fighters to dog-fight at low altitudes. Proper use of the Thunderbolt meant free-roving flights at high altitude, where they were designed to fly, and where they could track enemy formations unseen. When the moment came for combat the Thunderbolt's unequalled diving speed would put its guns within range of destroying that formation, long before the enemy even knew American pilots had spotted them.

---

The battle for Lae was the focus of the Fifth Air Force efforts for nearly two weeks. On September 5 Kenney's bombers continued to pound enemy positions in support of the ground operations. This further including dropping Australian paratroopers into Nadzab west of Lae. For the Australians, it was their first jump ever. After a last-minute decision to insert them by air, their pre-jump training had consisted of nothing more than brief instructions on how to pull the ripcord that deployed the chutes. The operation was surprisingly successful and by nightfall Nadzab was in Allied hands.

The following day air operations continued with Fifth Air Force C-47 transports flying General Vasey's 7th Australian Division into Nadzab. To protect the troop movement, bombers continued to pound enemy fortifications around Lae, and fighters did their best to keep enemy aircraft out of the battle. Dick Bong, recently returned from Australia, claimed two more enemy aircraft shot down. Neither was ever confirmed or added to his score--which is ironic. If Dick Bong claimed he shot something down, it was no exaggeration. The intrepid Captain had a reputation, not of padding his score, but of frequently giving credit for his own victories to other pilots. Unfortunately, on returning to Marilinan airfield, Bong made a difficult crash landing. Though he survived uninjured, he was again temporarily out of action.

The ground combat to take Lae continued unabated and with great success by the determined Australians in the week following the landings at Hopoi Beach and Nadzab. Air operations, on the other hand, were greatly hampered by a week of poor weather. Towards mid-month the weather began to clear slightly, and increased air combat followed. Neel Kearby's double victory on September 4 brought to four the total number of aerial victories for his fighter group. On September 13 Major Bill Banks and Lieutenant Larry O'Neill each scored while flying routine transport cover, upping the P-47 tally to six.

The following day, while leading a similar mission at 20,000 feet near Nadzab, an unidentified aircraft was spotted about 9:45 a.m. above and to the right of Kearby's formation. When the bogey saw the American planes it began a desperate race for the clouds, a quick indication to Kearby that it was enemy.

Kearby's P-47s were now operating with disposable drop tanks to extend their range. These supplemental fuel cells were normally released only before combat, at which time they were lost forever. Realizing he was still short of drop tanks, Kearby ordered his other pilots not to drop their tanks. Instead, he would drop his own and pursue the enemy alone. It was too late. With an eagerness for combat that Kearby could now identify with, six of his seven pilots had already dropped their tanks to follow their commander into combat. (Kearby later learned that the seventh pilot would have dropped his as well, but the mechanism jammed.)

Kearby got there first, closing in at three-hundred yards on what he could now identify as a Japanese Dinah. A single, three-second burst from eight machineguns sent the enemy plane down in flames, and Kearby had upped his score to three. It would be his last for the month, indeed the last for a dry spell lasting nearly 30 days. Meanwhile, in that first full month of combat, his Thunderbolt fighter group had claimed eleven confirmed victories, at least another dozen probable but unconfirmed, and with the loss of only two of their own.

On the day Neel Kearby got his third victory, Tom Lynch became a triple-ace. The following day, September 16, while the Australian forces marched victoriously into Lae, Lynch scored again. He was now tied at sixteen with Dick Bong, who was returning to action.

Before Bong pulled back into the lead with his seventeenth victory on October 2, Tommy McGuire had upped his own score to seven, with two victories on September 28. Despite the dry spell for all of them over the following week, things were shaping up to erase any lingering doubts about the combat prowess of the P-47 Thunderbolt.